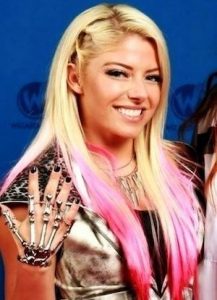 Alexa Bliss Net Worth:
$2.3 million
Alexa Bliss is an American professional wrestler. Despite having no wrestling training, she secured a contract with WWE. After making minor appearances, she had her first televised appearance on the main roster at WrestleMania XXX. Soon she made her in-ring debut in an episode of NXT. In 2016, she transitioned to SmackDown where she had her main roster debut. Bliss rose to fame after becoming a two-time SmackDown Women's Champion. She is also the first woman to hold the title twice.
She then made a good deal of hype after being transferred to Raw, where she became a three-time Raw Women's Champion. With this achievement, Bliss became the first woman to win both the Raw and SmackDown Women's titles. In 2018, she competed in WWE's Money in the Bank match where she won. Apart from her work in the ring, Bliss also ventured into television. From 2015 to 2018, she appeared as herself in the reality series, Total Divas.
Her success as a wrestler has resulted in a net worth of $2.3 million. It's been reported that so far she's earned $350 thousand this year alone. Her victories in which she won all the female titles on the main brands have catapulted her to stardom, which only increased her earnings. Her work in the reality series Total Divas, which aired on WWE Network and Hulu, also gave her net worth a significant boost.