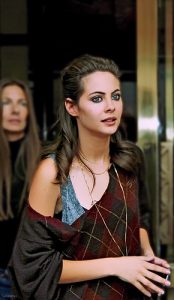 American actress Willa Holland started her career in the early 2000s. She got more prolific in the mid 2000s. Her first significant role was as Kaitlin Cooper on the TV series The O.C.. She next had a recurring character on Gossip Girl. She also appeared in the films Garden Party, Middle of Nowhere, and Genova. In the 2010s, she had roles in Legion, Chasing 300, and Straw Dogs. She went on to become more recognized after Arrow. She plays Thea Queen on the show, which she still stars on. She also played Thea Queen on the spin-off The Flash.
The young actress is apparently slender. Standing at around 5'5, her slim frame becomes more emphasized. For her role on Arrow, Willa knows she needs to put more efforts physically. To be able to do action-oriented scenes more efficiently, she works out more rigorously. The actress revealed she trains and learns how to fight. In an interview, she said: "I'm still learning a lot, but I've been doing a lot of weight lifting, hitting the gym a lot." The actress also added that she does all this training with her trainer. She trains everyday, even on Sundays.
The focus of her routine is weight lifting and basically just to make her more agile and mobile. She's also trained some martial arts to help her with her fighting skills on the show. It's important that as Thea Queen/Speedy, she looks like the part. So, all her training which she does daily improves her physique greatly. Now, she's not your regular skinny Hollywood actress. Now she knows how to kick ass for real. Her thin frame now is mixed with energy and leanness. Because she's still on Arrow, her rigorous training continues. And that is totally okay with her because the benefits will be long-term.