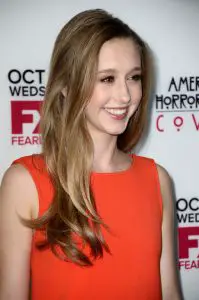 It was only in 2011 that actress Taissa Farmiga got her start in the show business. Vera Farmiga is her big sister so that probably added her wanting to become an actress as well. She made her film debut in Higher Ground. At the same time, she also had her first TV role in American Horror Story: Murder House as Violet Harmon. She next portrayed Sam Moore in Sofia Coppola's The Bling Ring. She also returned for the second season of American Horror Story named American Horror Story: Coven as Zoe Benson.
During this period, she also starred in the films At Middleton, Anna, and Jamesy Boy. She later starred in The Final Girls, 6 Years, and In a Valley of Violence. She also starred as Karen McClaren in the short-lived series Wicked City. Her most recent work on the big screen was in the movies Rules Don't Apply, What They Had, and The Long Dumb Road. She'll star in the upcoming films The Nun, We Have Always Lived in the Castle, and The Mule. In addition, she's had voice roles in the films Justice League vs. Teen Titans and Teen Titans: The Judas Contract as Raven.
Aside from following a healthy diet plan, the young actress also works out to stay in shape. Although she also admits that she's not a fan of working out, she still does so not only for the sake of her figure but for her overall well-being, too. In a tweet, the actress said: "I'm such a complainer when I workout. Internally. Externally. All of the above."
She may complain about exercising but she still feels great afterward. She also tries her best to be as active as possible, combining activities of walking, running, and even doing sports. She also loves spending time outdoors hiking or swimming.