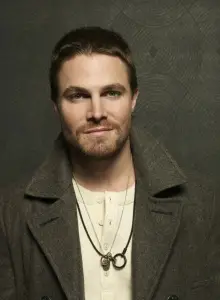 Canadian hottie Stephen Amell is best known as Oliver Queen/vigilante by night the Green Arrow on Arrow. Prior to this, he spent his initial career on Canadian shows. By mid 2000s, he's had recurring roles on Beautiful People Dante's Cove. His first main role was on the TV series Rent-a-Goalie. He went on to appear on the shows Da Kink in My Hair, Heartland, and Blue Mountain State. In the beginning of the 2010s, he appeared on The Vampire Diaries and New Girl. He then joined the main cast of the HBO series Hung. The series was short-lived though. After appearing on Private Practice, he began playing Oliver Queen on Arrow. He has also recently portrayed Casey Jones in Teenage Mutant Ninja Turtles: Out of the Shadows.
The 35-year-old actor apparently has "the body". His role on Arrow gave us enough proof of that. He's also very good with his role, his physique aligned with his role as a warrior and a highly-trained vigilante. Of course, this is something that he's worked hard for. Though he already looks gorgeous, the actor took the time and effort to train extensively to achieve his chiseled-looking body. His lead on Arrow was a game changer in his career. So, this also prompted him to work out more rigorously.
Looking at his body, he's got a muscle mass that naturally fits his body. Not too much, not to little, just enough. It is interesting to know that Stephen does a lot of Parkour or freerunning. It helps in his agility and stamina. But the trick in his muscle growth is lifts, which he does around 3-4 times a week. Pushing more weight and reps facilitate muscle growth. He also focuses his workout routine on compound movements. Heavy movements like presses and rows are ideal for muscle enhancement, too. Since he works very hard, he compliments it by eating enough calories.