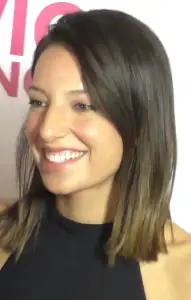 Vanessa Lengies started her entertainment career in the 1990s with voice roles in The Little Lulu Show, Arthur, and Radio Active. She then starred as Vange in the television series Are You Afraid of the Dark? At the same time, she landed a hosting job for the show Popular Mechanics for Kids, as well as starred as Elizabeth Patterson in the TV show For Better or For Worse.
In the 2000s, she starred as Roxanne Bojarski in the NBC drama American Dreams, which got her a Teen Choice nomination. Following this, she had roles in the films Waiting… and The Perfect Man. She then joined the main cast of the TV series Monarch Cove. The rest of the 2000s saw her performing in the films Stick It, Foreign Exchange, Extreme Movie, Archie's Final Project, and Still Waiting… Lengies became further known for her recurring role as Kelly Epson in Hawthorne.
She also gained mainstream fame for her role as Sugar Motta in Glee, which she actively played between 2013 and 2015. She simultaneously played a recurring role in MyMusic and starred as Kacey in the sitcom Mixology. Following this, she starred in the movies We Are Your Friends and Happy Birthday. In 2016, she starred in the short-lived series Second Chance. Also, she was the voice of Kordi Freemaker in the animated series Lego Star Wars: The Freemaker Adventures.
Vanessa Lengies follows a vegetarian diet to keep her body fit and healthy. Talking about her journey to being a vegetarian, she shared: "Initially I just bought all the packaged veg foods I could find. But pretty soon I got a stronger sense of what I should be eating, and I started making meals with fresh ingredients. One of my favorite dishes is roasted vegetables—I just put the veggies in a pan, then toss them with some olive oil, garlic, and salt before roasting. And I was never a fan of avocados, but now I love to slice them open and add a little olive oil and balsamic vinegar, or honey and salt."