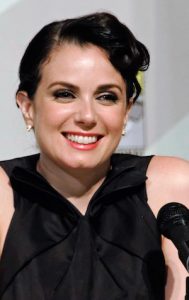 Mia Kirshner debuted in 1989, appearing in an episode of War of the Worlds. Later in 1990, she starred as Sophie Metternich in the short-lived series Dracula: The Series. In 1993, she had her first movie role in Love and Human Remains. She's since appeared in the films Cadillac Girls, Exotica, Murder in the First, The Grass Harp, The Crow: City of Angels, Anna Karenina, and Mad City.
In the 2000s, she starred as Ruby Cates in the TV series Wolf Lake. Between 2001 and 2005, she also became known for her recurring character as Mandy in 24. The actress then rose to fame for playing Jenny Schecter in The L Word. The series aired on Showtime from 2004 to 2009. During this period, Kirshner had performances in such movies as Century Hotel, According to Spencer, New Best Friend, Now & Forever, Party Monster, and Miss Conception.
In addition, she played notable roles on the big screen as well, like the roles of Catherine Wyler in Not Another Teen Movie and Elizabeth Short in The Black Dahlia. After The L Word finalized, she got the part of Isobel Flemming in The Vampire Diaries. She next starred in the feature films 388 Arletta Avenue and The Barrens. From 2013 to 2014, she starred as Kenya Rosewater in the television series Defiance. She went on to star in the 2016 film Milton's Secret. As of 2017, the actress plays Amanda Grayson in Star Trek: Discovery.
Mia Kirshner stays in shape by sticking to a healthy diet plan. She's since cut back on dairy, sugar, and carbs, which is why she rarely eats any processed foods. Now in her 40s, she makes sure she follows a clean, balanced diet that usually involves lean proteins from chicken, fish, as well as beans and lentils. She consumes more vegetables, incorporating all salads into her every meal. She also eats plenty of fruits by snacking on them in between meals, in addition to nuts and plain Greek yogurt, which are just as healthy.