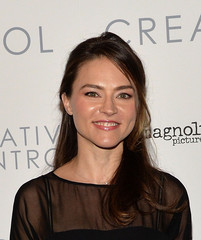 Hollywood actress Trieste Kelly Dunn got her start in the mid-2000s. She debuted with a minor role in the 2004 film Mysterious Skin. Meanwhile, her first television role was in an episode of Law & Order: Special Victims Unit. She later appeared in the movie United 93. Her first regular role on the small screen was as Molly McConnell on the short-lived Fox series Canterbury's Law. She later made guest appearances on the shows Fringe, Cupid, and Bored to Death. She continued acting in the 2010s where she had roles in the movies Cold Weather and The New Year.
In the 2010s, she guest-starred in an episode of Brothers & Sisters. Following this, she became known for her role as Siobhan Kelly on the Cinemax series Banshee. At the same time, she had recurring roles as Margot Dixon on Margot Dixon and Elizabeth Farrell on Believe. She next had a role in the movie Applesauce and started playing the recurring part of Allison "Allie" Knight on NBC's Blindspot. More recently, she worked in a couple of films, such as in Almost There, Infinity Baby, Blame, and The Misogynists. During this period, she also appeared on the miniseries Manhunt: Unabomber, as well as guest-starred in an episode of Elementary.
The 37-year-old actress stays in shape by sticking to a clean and a healthy diet. She normally avoids eating processed foods. She's made it a rule to not eat anything sugary or oily, so no fast foods or junk foods, or anything like that. While she admits that it's hard to avoid them all the time, the actress makes an effort to focus on her consumption of nutritious foods. Her everyday diet plan basically consists of lean proteins such as fish and chicken plus fruits and veggies. She also has whole grains for fiber. Even her snacks are healthy ones, including nuts and yogurt.