Becoming a Teen Idol and a Reality Star
Victoria Davey "Tori" Spelling was born on May 16, 1973 in Los Angeles, California. She is the daughter of Candy and television and film producer Aaron Spelling. She studied at Beverly Hills High School in Beverly Hills, California but completed her studies from Harvard-Westlake School in 1990.
She started taking acting lessons at the age of six when her father hired an acting coach for her. She subsequently landed guest spots in numerous television shows like The Love Boat, T. J. Hooker, Hotel, Fantasy Island, Vega$, and Saved by the Bell. She then came to wider recognition after being cast as Donna Martin in the popular series Beverly Hills, 90210.
The show was co-produced by her father's company Spelling Television. She portrayed the role for the series' entire run, that is until the finale of the seventh season, and received two Young Artist Awards nominations as well. During her time with Beverly Hills, 90210, she has also appeared in a series of TV films including A Friend to Die For and Mother, May I Sleep with Danger?.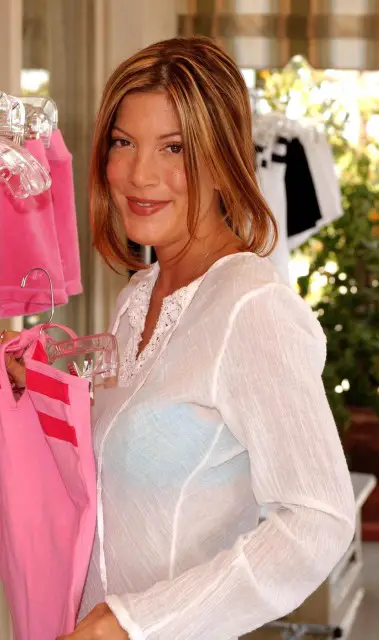 She later starred in the independent movies The House of Yes (1997) and Trick (1999). For her role in the latter, she was nominated for the Satellite Award for Best Supporting Actress – Motion Picture. She has also acted in the horror film Scream 2, (1997), Scary Movie 2 (2001), Sol Goode (2003) and Evil Alien Conquerors (2003). After Beverly Hills, 90210, she appeared in various television series such as Melrose Place, Burke's Law, Biker Mice from Mars, Malibu Shores, The Help, Less than Perfect and Smallville.
In 2004, she married actor and playwright Charlie Shanian but they separated the following year. Their divorce was finalized on April 20, 2006. Less than a month after the divorce was finalized, she married actor Dean McDermott. That same year, she starred as herself in the sitcom So Notorious.
The following year, she and her second husband Dean McDermott purchased and operated a bed and breakfast hotel located in Fallbrook, California. This led them to be the basis of a new reality show called Tori & Dean: Inn Love, which premiered on March 20, 2007. The show came back for a third season with its new title Tori & Dean: Home Sweet Hollywood.
During this time, she has starred in a series of movies including Cthulhu (2007) and Kiss the Bride (2008). In May 2009, their show Tori & Dean: Home Sweet Hollywood was aired for a fourth season. She went on to reprise her role as Donna Martin in the new CW show 90210 as a special guest star.
She also ventured in establishing her own fashion and jewelry line, which premiered on HSN. On March 11, 2008, she released an autobiography sTori Telling. She then released her second book, Mommywood, on April 14, 2009. The following year, her third book titled uncharted terriTORI was released.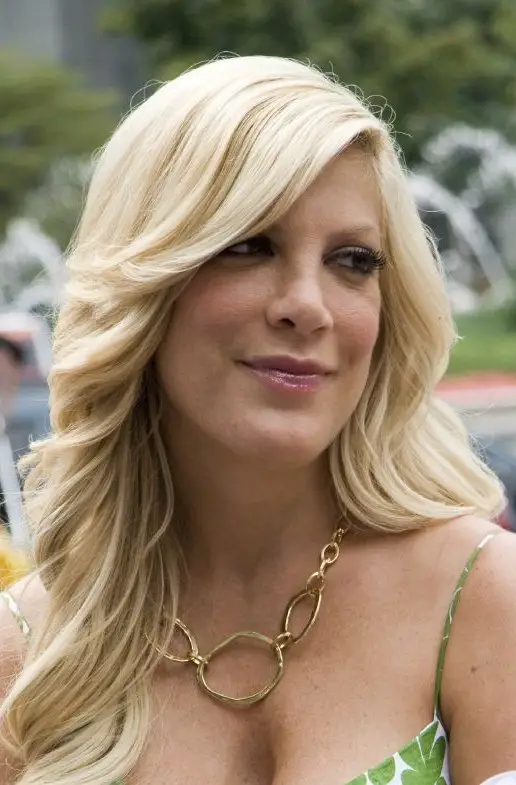 In 2011, the spin-off series Tori & Dean: sTORIbook Weddings premiered on April 16. She next lent her voice for the Pirate Princess in Jake and the Never Land Pirates. She also landed a role in the short film "Hoarders: Untold sTori", which premiered in July 2011 at the Outfest Film Festival.
She continued to make appearances on television with such shows as Big Brother 13, My Little Pony: Friendship Is Magic, Craft Wars, and Yo Gabba Gabba! In 2012, she played the role of Marci in the film Mistle-tones. Furthermore, it was announced on August 26, 2013 that she's working on her new reality television program called Tori & Dean: Cabin Fever.
Plastic Surgery Rumors and Admission
During Beverly Hills, 90210's second season, Spelling was criticized for her new, deformed breasts. When asked about the breast augmentation, a botched breast procedure at that, she denied to having received one. It was also reported that she allegedly sued the doctor responsible for the mishandled operation.
In an issue of Entertainment Weekly some time in 2008, the actress and reality star finally admitted to the deed, saying: "I wanted to come clean that I had my boobs done in my 20s because people falsely write that I've had all these things done." She later added: "I've had the two procedures that probably every other woman in Hollywood has had done."