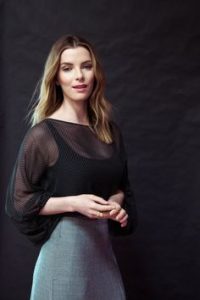 Actress Betty Gilpin got her start in 2006, first landing a one-time role on Law & Order: Criminal Intent. She next made guest appearances on New Amsterdam and Fringe. She also made her cinematic debut in the 2008 film Death in Love. That same year, she had a small role in the movie Ghost Town. Her first speaking role was in the 2009 feature film The Northern Kingdom.
Around the same time, she had one-episode appearances on The Unusuals and Law & Order. Her career flourished in the 2010s. She landed some guest roles and got her first notable role on television — as Dr. Carrie Roman on Nurse Jackie. She also had roles in the films Take Care and True Story. After Nurse Jackie, she had recurring roles on Elementary as Fiona Helbron and Masters of Sex as Dr. Nancy Leveau.
She also guest-starred on Mercy Street and American Gods. In 2017, she starred in the film Future '38. She recently gained wider recognition for her role as Debbie Eagan on the web series GLOW, which she started starring in 2017. She recently starred in the 2019 film Isn't It Romantic. She also stars in the upcoming movies A Dog's Journey, Stuber, and Grudge.
Apart from following a healthy diet plan, the actress maintains her fit body by working out. "I do Bar Method—it's, like, you're there for an hour and you get everything and you're done. My attention span when it comes to exercise is pretty minimal," said the actress in an interview with Shape. She also exercises even when she's on set. For her to do just that, she relies on DVDs to her started. "I have the DVD and even if I do five minutes of it, it's better than nothing. I'll play Mumford and Sons and just sort of do it myself," she said.