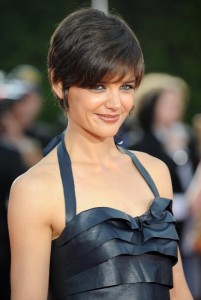 Former Dawson's Creek actress Katie Holmes is now in her late 30s and so much has happened since her breakthrough on television. Rising to fame for playing Joey Potter in the aforementioned show, she later transitioned onto the big screen with roles in The Ice Storm, Disturbing Behavior, and Teaching Mrs. Tingle, the last of which was her first lead role in a film. In the 2000s, she went on to star in the films Abandon, Phone Booth, First Daughter, and portrayed Rachel Dawes in Batman Begins (2005). Even after her divorce from her then-husband Tom Cruise in 2012, she continued acting with performances in Days and Nights, Miss Meadows, The Giver, and Woman in Gold.
Standing at 5'9, Katie's height is accompanied by her pretty face, making her features modelesque. In order to maintain her slender figure, Katie makes sure she exercises and eats well. Now that she's also a mother, it also becomes her responsibility to teach her daughter how to live the healthy way. Basically, the actress focuses on nourishing her body with complex carbs, lean protein, high fiber fruits and vegetables. It has also been reported that the celebrity has been practicing the so-called Paleo diet or Caveman Diet, which she seems to be enjoying as she's happy with the results.
In addition, Katie didn't go the unhealthy route even when experiencing personal and emotional struggles a few years ago. She believes in the importance of eating a balanced diet and no personal dilemmas will stop her from eating the right way. Also, since there was one point when she had to shed some pounds, Katie didn't rely on these fad diets to be able to do that. Nothing beats doing it the natural way of course. When it's time to get ready for challenging roles on film, Katie makes it a point to eat foods that are low in calories like oats, carrot soup, organic raw broccoli, apple, lettuce, tofu, fish, and tomato. She tries to stay away from caffeinated coffee, but she eats desserts once in a while to satisfy her cravings.