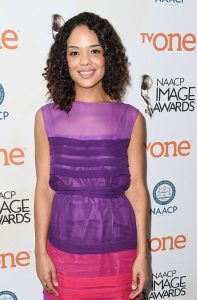 Hollywood celebrity Tessa Thompson has been in the acting business since mid 2000s. As she was beginning in her journey as an actress, she landed roles in a number of films. She also landed guest parts on television. She first became known for playing Jackie Cook on Veronica Mars. After her role on the show finished, she joined the main cast of the short-lived series Hidden Palms. She went on to play her first lead on the series Blue Belle, though it didn't last. In the 2010s, she had a recurring role on 666 Park Avenue. She had also starred on the short-lived show Copper. She gained wider recognition when she played a supporting role in the movie Creed.
With her upcoming role in the superhero movie Thor: Ragnarok, Tessa is surely to gain further attention. The actress is already in her 30s and with this she knows how important it is to be healthy. She also minds the foods she eats. Caution and balance are important for her as she doesn't want to abuse her body by eating unhealthy foods. She notices that the more she eats something nutritious, the better she feels about herself in general. In an interview, Tessa revealed some of her favorites, saying: "I snack (or graze, really) throughout the morning into the afternoon. I eat almonds professionally, and I can't get enough of Yerbe Mate Cranberry Synergy Kombucha!"
With her food choices, it's apparent that the Creed actress really does choose her foods well. She only goes for the ones that she knows are packed with essential nutrients, at least most of the time. Being a foodie, she does indulge in her cravings, but the actress knows how to practice balance in her diet plan. She does this by following portion control and trying her best to eat in moderation always. She snacks on something healthy every 2-3 hours or so to avoid feeling pangs of hunger.