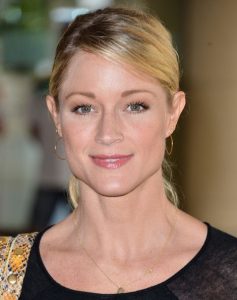 Hollywood star Teri Polo had her career beginnings in the 1980s. During this period, she appeared in the soap opera Loving. Her first regular role was in TV 101. In the 1990s, she appeared in the films Mystery Date, Passed Away, The House of the Spirits, and The Arrival, among others. She also played Michelle Schodowski Capra in the series Northern Exposure and Det. Sgt. Delilah Ash in the show Brimstone.
She later appeared as Maggie Sherwood in Felicity as well as played Rebecca Wells in Sports Night. In the 2000s, she gained mainstream fame starring as Pam Byrnes in the comedy film Meet the Parents. She has since reprised her role in the sequels Meet the Fockers and Little Fockers. Other movie credit includes Beyond Borders, The Hole, and The Beacon. She also played Alex Young in the show I'm with Her and Helen Santos in The West Wing. More recently, she's best known for her role as Stef Adams Foster in The Fosters.
The 49-year-old actress stays in shape by being more conscious of her eating habits. She admits that getting older means also means it's crucial for her to stick to a clean diet plan. "You hit a certain age and you can't lose weight anymore [while eating the same foods]. So I cut out all dairy, all sugar," she said. She also avoids processed foods most of the time. She concentrates on having a whole and a well-rounded diet.
"I eat only protein, vegetables, natural fats and fruits at every meal," she added. Because she mostly eats healthy foods, she doesn't feel the need to binge-eat nor does she feel frequent hunger pangs. Eating healthily helps with keeping hunger at bay. The more you eat junk foods, the hungrier one feels, actually. Teri knows this so she sticks to the good ones. She's also motivated to follow a clean diet because she can feel the difference it makes in her body.