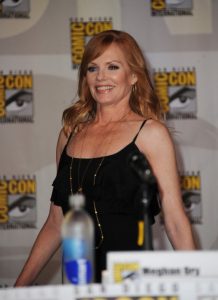 It was in 1982 that actress Marg Helgenberger got her start. She made her television debut as Siobhan Ryan in the soap opera Ryan's Hope. Afterward, she became known for her role as Karen Charlene Koloski in China Beach. During this period, she also had roles in the films Tootsie, After Midnight, and Always. In the 1990s, she mostly starred in made-for-television films. She also had roles in the movies Bad Boys, Species, and Species II.
In 2000, she had a supporting role in the movie Erin Brockovich. She then became internationally recognized for her role as Catherine Willows in CSI: Crime Scene Investigation. She was part of the show's main cast from 2000 to 2012. She returned in 2013 and 2015 as a guest star. She then starred as Lilian Strand in the short-lived series Intelligence. She also played recurring character Christine Price in Under the Dome. Her recent work in the movies was in 2016's Holding Patterns.
She's turning 60 this year but it sure isn't obvious for the former CSI actress. On the other hand, the actress admitted that she doesn't exercise as much as she used to before. Nonetheless, her work as an actress already keeps her active on a daily basis. She also tries her best to be mobile all the time. As simple as taking the stairs is already a great way to keep her heart rate elevated and is actually a good form of cardio.
"I do [work out], but not as much as I used to. I just don't have the energy to do spin class, and then yoga and a night shoot," she said in an interview. She's also a mom, so it's almost rare for her to have some free time for herself. She later said: "So I do power yoga and [lift] weights, hike and [practice] a little meditation."