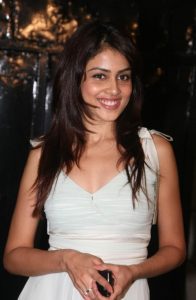 Indian actress Genelia D'Souza who is active in both the South Indian cinema and Bollywood. Her mainstream appearance in Parker Pen commercial led her to start an acting career. Her first movie was Tujhe Meri Kasam, released in 2003. This became widely successful, earning her further attention. Around the same time she starred in the Hindi film Boys. Afterwards, she starred in lots of Telugu movies. For her role in the Telugu feature Bommarillu, she won her first Filmfare Award for Best Actress. Her role in the Tamil film Santosh Subramaniam was also lauded. Her most recent gig was a cameo in the Hindi film Force 2.
The 29-year-old actress stands lean and slender in her physique. Her amazing figure and her overall health are something that she maintains through a healthy lifestyle. She works out and she eats right as well. She makes sure that her body mainly receives nutritious foods only. This is because she feels the benefits of eating healthy foods. Unlike eating junk foods that only makes her weak. She also noticed that choosing wrong foods makes her lose her mental focus. That's why she finds it important to make healthy eating as an everyday habit.
In an interview, she said about her food choices: "I am a non-vegetarian. My favourite is chicken. I eat fish five times a week because I am a Manglorean and fish is our staple diet. I probably have chicken once a week and mutton once in a blue moon. I try to avoid red meat." For breakfast she usually has two egg whites with a slice of bread. She sometimes have a South Indian breakfast. For lunch, she has two rotis, a vegetable, and a fish or chicken dish.
She also focuses on consuming lean proteins. At night for dinner, she usually has tandoori chicken. She generally avoids foods that are high in carbs at night.