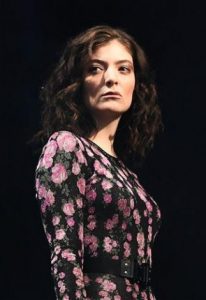 New Zealand singer-songwriter Lorde came to international prominence after the release of her debut single "Royals" in 2013. It reached Number 1 on international charts, including the US Billboard Hot 100. She subsequently released her debut album Pure Heroine, generating another hit single "Team". After this, she recorded the song "Yellow Flicker Beat", which was used in the movie The Hunger Games: Mockingjay – Part 1.
For this, she got a Golden Globe nomination for Best Original Song. She released her second album Melodrama three years later in 2017. The album spawned the song "Green Light" as its lead single. The said album also reached Number 1 in the US, UK, and Australia. Prior to her worldwide fame, Lorde initially began her singing career in 2012, releasing her first EP in 2012.
She may be young but Lorde takes her health very seriously. In fact, part of her pre-performance ritual is eating something healthy because it helps her soothe her stomach. She said: "I eat some berries or some dried nori (which I get all over my face) in place of dinner, because a couple of hours before the performance, my stomach starts heaving and I feel like I'm going to throw up — even when I'm not that nervous. It's the weirdest thing."
On the other hand, her crazy schedule as an artist also brings out some unhealthy habits, too. In an interview, she admitted to skipping meals because she forgets to eat. She's that busy with her recording career that she doesn't even feel hungry. The singer knows this to be a bad habit and is trying to change that. During tours, she's often exposed to processed foods but she doesn't indulge too much. She tries her best to stick to nutritious foods most of the time as that helps her gain more energy and strength for her performances.