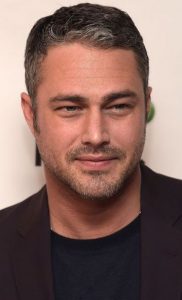 Hollywood actor Taylor Kinney had his career beginnings in the mid-2000s. He made his debut with a starring role, playing Luke Gianni in the soap opera Fashion House. He next guest-starred in the show What About Brian and Bones. In 2007, he made his film debut in White Air, followed by the movie Furnace. He later starred as Glenn Morrison in the short-lived series Trauma. After this, he played Mason Lockwood in The CW series The Vampire Diaries where he was a recurring character from seasons 2-3.
Following this, he had roles in the films Least Among Saints, Stars in Shorts, Zero Dark Thirty, The Other Woman, Consumed, Rock the Kasbah, and The Forest. Back on the small screen, he got his break after securing the role of Lt. Kelly Severide in Chicago Fire. He's been part of the show's main cast since 2012. He has also reprised his role in the spin-offs Chicago P.D. and Chicago Med. In the movies, his latest role was in 2018's Best Day of My Life.
The television actor does not follow a specific workout routine but he makes sure he sticks to an active lifestyle. According to him, what he does as means of training for his role in Chicago Fire is just basically cycling. It's something he enjoys doing. When asked how he trains for his part in the series, he said:
"A lot of these guys, they're big guys. A couple of them are ex-football players, and it's more of a [when they can make time for it] thing. These guys, they're not running marathons. I don't really have one [a workout routine]. I run a little bit." Playing a firefighter in the show, he's also done his fair share of simulated training involving fire. So, his role in the program also pretty much serves as his form of workout.