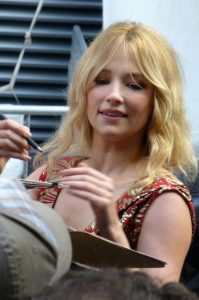 Hollywood actress Haley Bennett had a strong debut in the romantic comedy Music and Lyrics. In the film, she played pop star Cora Corman, which instantly drove her to the spotlight. She next played the titular character in the horror film The Haunting of Molly Hartley. Her next work was a supporting role in Marley & Me. Her subsequent roles didn't make much impact as compared to her film debut. In the 2010s, she continued acting, but mostly in less known feature films. She also starred in an unsold pilot called Outlaw Country. She recently returned to mainstream films with roles in The Equalizer, The Magnificent Seven and The Girl on the Train.
The 29-year-old actress is now back in the limelight. She rose to fame in 2007 for Music and Lyrics, but her subsequent films failed to maintain the stardom she initially enjoyed. She's however back recently with notable roles in major Hollywood productions. This includes the recently released mystery thriller drama The Girl on the Train where she played one of the leads. Since her debut, the actress has maintained her slender figure though she revealed in an interview that she was forced to lose 20 lbs for her role in Music and Lyrics.
In the present, the actress follows a healthy diet plan. She mostly consumes organic, whole foods. She focuses on eating lean proteins, whole grains, fruits and vegetables. She's careful not to overeat so she practices moderation in eating at all times. She also snacks on healthy foods like nuts, fruits and yogurt to keep her full at all times. This also prevents her from binge eating. Being a food lover, she allows herself to indulge to her cravings occasionally like pizza and apple pies. The actress said in an interview that if she weren't an actress, she probably would have been a chef!