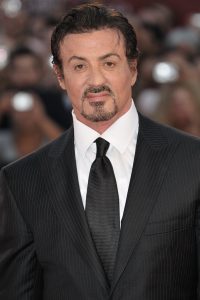 Sylvester Stallone began his career in 1969 as an extra, continuing until the early 1970s. His first notable role in cinema was in the 1974 film The Lords of Flatbush. He next portrayed Frank "The Enforcer" R. Nitti in the movie Capone. Stallone came to international fame for his role as Robert "Rocky" Balboa, Sr. in the 1976 film Rocky, which he also wrote. He reprised the said part three years later in the sequel Rocky II.
In the '80s, he continued playing the role of Rocky in Rocky III and Rocky IV. During this period, he also became known for starring as John J. Rambo in 1982's First Blood. He reprised his role in Rambo: First Blood Part II and Rambo III. The following decade, the actor starred in the films Demolition Man, Assassins, The Specialist, and Judge Dredd. He also played Rocky Balboa in Rocky V.
Continuing is cinematic career in the 2000s, Stallone starred in several feature films. This includes Get Carter, Spy Kids 3-D: Game Over, Rocky Balboa, and Rambo. In the 2010s, the actor starred as Barney Ross in The Expendables and its sequels. He also played Ray Breslin in the Escape Plan trilogy. Also, he reprised his role as Robert "Rocky" Balboa, Sr. in the Rocky sequels Creed and Creed II. This year, he'll star in the latest Rambo film Rambo: Last Blood.
For Sylvester Stallone, it's all about consistency. "When I am not training for a role, I hit the gym three times a week. This allows me to maintain my physique and leaves me feeling really good and much stronger than I have ever felt," said the 73-year-old actor. Apart from his regular workout routine, the actor also enjoys doing Pilates. Plus, he keeps himself strong and healthy by eating lots of protein, fruits, and vegetables.