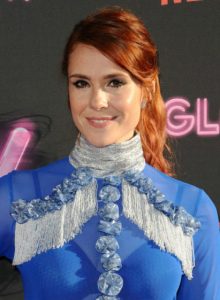 English singer-songwriter and actress Kate Nash first gained attention in the UK for her 2007 single "Foundations". Shortly after, she released her debut album Made of Bricks where it reached atop the UK charts. At the 2008 Brit Awards, she won the Best British Female Artist Award. Her second album, My Best Friend Is You, was released in 2010. It spawned the hit single "Do-Wah-Doo". Around this period, she also pursued a career in acting. She made her film debut in the 2012 Hollywood film Greetings from Tim Buckley. She next appeared in the movie Syrup, as well as in the British feature Powder Room.
During this period, she also released her third album, Girl Talk, which wasn't as successful as her previous releases. She then appeared as herself in the documentary The Distortion of Sound. Afterward, she appeared in the pilot The Devil You Know. She recently gained wider recognition for her role as Rhonda "Britannica" Richardson in the Hollywood series GLOW. While on the show, she had a guest appearance on the reality show Drop the Mic. Her fourth and latest studio album, Yesterday Was Forever, was self-released in 2018.
The English beauty has since garnered a wider audience thanks to her regular stint in the Netflix series GLOW. In interviews, she's confessed to struggling with her body, saying people could be critical of her weight. "People comment on my body all the time in a really inappropriate way, in a way I find completely offensive," said the celebrity.
Moreover, as preparation for her role in GLOW, she shared how she's started going vegan. She's been a vegetarian for over eight years but this time she decided to take it to the next level. "I'm actually vegan now, and I'm an advocate for that. Becoming a vegetarian made me conscious of the power of the decision and I could explore my relationship with my mental health," she explained.