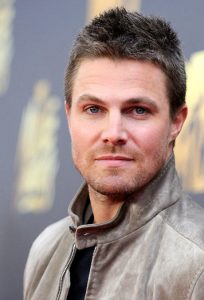 It was in 2004 that actor Stephen Amell got his start in the acting business, for which he had minor roles in such TV shows as Queer as Folk and Degrassi: The Next Generation. His first notable role was as Jason in five episodes of the series Beautiful People. He next played Billy in the show Rent-a-Goalie. Subsequently, he had recurring roles in such shows as Heartland Da Kink in My Hair.
In the 2010s, he starred in the TV movie Justice for Natalee Holloway. He next played Jason in the HBO series Hung. It was in 2012 that his career flourished, first appearing in the shows New Girl and Private Practice. He then became widely known for his role as Oliver Queen/Green Arrow in Arrow. He has been playing the role since 2012. He has also reprised his role in the spin-off The Flash and DC's Legends of Tomorrow. He also portrayed Casey Jones in the 2016 movie Teenage Mutant Ninja Turtles: Out of the Shadows.
Judging from the physique he casually flaunts in his show Arrow, it is apparent that Stephen follows a strict workout regimen and diet plan. While he already had a toned body, he knew he needed to work harder in order to play his role as the masked vigilante in Arrow. He also has many scenes in the show showing him with his upper body and we can see how he's bulked up for the role. His stint in American Ninja Warrior also showed us how he's very good when it comes to intense training.
But what about his diet? Nutrition also plays a crucial role when it comes to achieving a certain physique. As for Stephen, he needed to pack larger muscles. For this reason, he focused on consuming proteins, something he still does as part of his normal diet plan. He also needed to cut down many unhealthy food items from his diet, including gluten, sugar, and dairy. It was also reported that the Arrow star avoided beer as this contains gluten, too. Regularly, he eats meat, poultry, fish, beans, and eggs for protein. He also drinks whey protein powder to help him with his training.