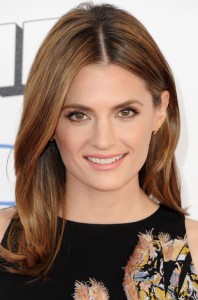 Canadian-American actress Stana Katic began her career in the late 1990s, but was really active in the mid 2000s particularly on television. While prolifically appearing on the small screen with one-episode roles, she also acted in a couple of movies all throughout the 2000s. During her initial career on the small screen, she played recurring parts in popular shows like 24 and Heroes. She also appeared as a minor character in the blockbuster Quantum of Solace (2008), followed by The Spirit that same year. Her big break came in 2009 after landing the female lead in Castle. The popularity of the show secured her prominence and made her a household name. She went on to appear in the 2013 movies Big Sur and CBGB.
37-year-old actress Stana Katic is one of the most attractive television stars today. Standing at 5'9, she certainly has a modelesque figure. Despite reaching the crucial age, the actress is radiantly beautiful, fit, and healthy. To be able to maintain her slender figure and be entirely healthy inside and out, Stana practices healthy diet in addition to working out, which she can do despite her busy schedule since her wellness is one of her priorities. Interestingly, she follows an organic diet. By doing so, she gets to avoid artificial ingredients such as sweeteners and trans fat.
In addition to this, she also gets to get more nutrition per calorie. To get her blood flowing at the beginning of the day, she does yoga accompanied by a healthy breakfast. Because she needs to not only feel strong and energetic for her lead role in Castle, Stana is cautious when it comes to the foods she eats, thus, the aforementioned organic diet with minimal processed foods. This makes her feel good and look good at the same time. That's why it's no wonder that Stana looks fabulous despite nearing her 40s.