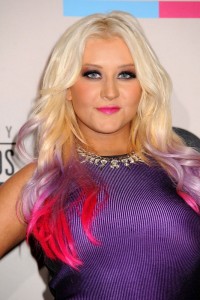 American singer and actress Christina Aguilera started her performing career at a young age, showcasing her big voice in such television shows as Star Search and The Mickey Mouse Club in the early 1990s as she was entering her teens. She rose to fame in 1999 following the release of her first album, Christina Aguilera. The songs "Genie in a Bottle", "What a Girl Wants", and "Come On Over Baby (All I Want Is You)" became instant hits, which helped her secure the Grammys for Best New Artist. She has since released other albums with the most recent, Lotus, released in 2012. Aside from recording, Christina has had lots of endeavors in the show business, including acting, which she began doing in 2004 with Shark Tale. Her first lead role was in Burlesque (2010). She's also best known as one of the original coaches of The Voice, a reality talent competition in the US.
Being a mother of two, Christina has struggled with getting back to her original weight. Standing at 5'2, the Grammy Award-winning performer and recording artist used to have a petite figure. Being in her mid 30s and ever since starting a family, the celebrity has gone more indulgent of food, causing her to gain much weight in the past few years. However, with proper diet and exercises, she was able to lose weight. For one, she now avoids alcohol and unhealthy snacks like the delectable chocolate chip pancakes.
In the morning, she starts her day with blueberries, half an avocado and turkey bacon. This combination is a mix of protein and healthy fats. She next snacks on celery with almond butter. She follows this with lean protein for lunch, which consists of eating chicken breast over a veggie-filled salad. She prefers to have no creamy dressings. She's also fond of snacking on shrimp cocktail. Her last meal of the day consists of chicken or fish curry and splurges with a glass of wine.