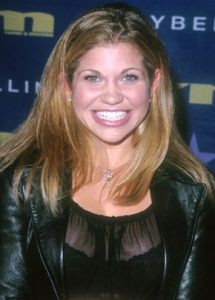 Danielle Fishel started her acting career during her early teens. She first guest-starred in Full House in 1992. Her next role was a one-time part in Harry and the Hendersons. Shortly after, Fishel got her breakthrough after being cast for the role of Topanga Lawrence in the ABC sitcom Boy Meets World, which she starred in between 1993 and 2000. She earned two Young Artist nominations for her work here.
After the show ended, she starred in the TV movie Rocket's Red Glare, as well as had her first first cinematic role in Longshot. Later, she made appearances in the TV shows The Nightmare Room and Yes, Dear. She next played Marla in the film National Lampoon Presents Dorm Daze. She reprised her role in the sequel National Lampoon's Dorm Daze 2. Other film roles during this period were in Gamebox 1.0 and The Chosen One.
Fishel ventured into hosting later on with the TV program The Dish. She hosted the show from 2008 to 2011. She then reprised her role as Topanga Lawrence-Matthews in the Boy Meets World spin-off Girl Meets World (2014-2017). She went on to star in the film Boiling Pot, as well as appeared with a voice role in Gravity Falls. Her most recent work was a voice role in an episode of the animated series Star vs. the Forces of Evil.
The actress has struggled with her weight and body image for a long time. When she was younger, she admitted to starving herself just so she could lose weight. Ultimately, it affected her health negatively that she had a wake-up call. "I was terrified to eat. I would hide the fact that I wasn't eating lunch," said the actress.
When she fell unconscious on the set of her show one day, she realized her severe dieting "was not a game". She has since realized that health is more important. She now follows a balanced diet and doesn't worry about people criticizing her appearance.