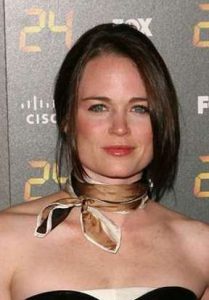 Hollywood star Sprague Grayden had her career beginnings in the late 1980s as a child actress. She made her film debut in 1989's Dad. In her later life, she pursued acting full-time, appearing in the 2001 horror film Biohazardous. She next appeared in an episode of Law & Order: Special Victims Unit. Her first starring role on television was as Karen Kawalski in the short-lived Fox series John Doe.
After this, she played the recurring character Judith Montgomery in Joan of Arcadia. Grayden became further known for playing Anita Miller in the HBO series Six Feet Under, which aired from 2004 to 2005. Later, she starred as Terry Ryder in the short-lived show Over There. At the same time, she appeared in the film Mini's First Time. The actress then played Denise in 3 episodes of Weeds. After that, she got the part of Heather Lisinski in Jericho, which she played between 2006 and 2008.
Her next roles were in the movies The Last Lullaby and Wake. Furthering her career on TV, she played Olivia Taylor in 24 and Donna Winston in Sons of Anarchy. In the 2010s, her film career flourished when she starred as Kristi Rey in Paranormal Activity 2. She went on to play the Younger Ellen in White Collar, then as Maya Callis in Low Winter Sun. In 2014, she played Carrie Cooke in The Following. She recently made appearances in the shows Kevin (Probably) Saves the World and Dirty John.
At 39 years old, Sprague Grayden is a conscientious eater. She chooses her foods carefully and prefers the ones that nourish her body and mind. As a general rule, she stays away from junk and processed foods. She sticks to lean proteins, whole grains, fruits, and vegetables. "If you just stay away from junk, and stick with what your mom taught you, you're eating pretty healthy," said the actress in an interview.