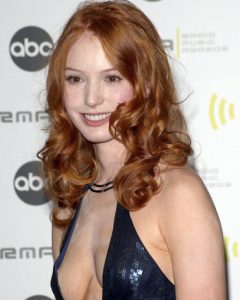 Hollywood star Alicia Witt got her beginnings as a child. She made her debut as Alia Atreides in the 1984 film Dune. In the '90s, she had roles in the films Bodies, Rest & Motion, Fun, Four Rooms, Mr. Holland's Opus, and Urban Legend, among others. Meanwhile, her first TV appearance was in Twin Peaks. She next appeared as Zoey Woodbine in 2 episodes of Cybill. She continued acting the following decade, having roles in the movies Playing Mona Lisa, Cecil B. Demented, Vanilla Sky, American Girl, Two Weeks Notice, The Twilight Zone, The Upside Anger, and 88 Minutes.
During this period, she also appeared as Det. Nola Falacci in 5 episodes of Law & Order: Criminal Intent. She later played Rosalind Harker in The Mentalist and Cheryl in Friday Night Lights. In the 2010s, she's best known for her notable roles as Wendy Crowe in Justified, Autumn Chase in Nashville, and Nikki Kim in The Exorcist. She's also acted in the movies Joint Body, Cowgirls n' Angels, Bending the Rules, I Do, A Madea Christmas, Six Love Stories, and The Bronx Bull.
The 43-year-old actress stays in shape by sticking to a clean diet. Though she does not follow any specific diet routine, she tries her best to eat as healthily as possible. In an interview, when asked if she follows any diet, she said: "Not really. I eat sensibly. I don't eat red meat or chicken, so I'm sort of a vegetarian. I do eat fish, sushi, vegetables, fruit and I drink a lot of water. I don't deprive myself of anything. I always have dessert, no matter what." She also credits her radiant skin and youthful look to drinking lots of water. Plus from being a vegetarian, she has also decided to go full-on vegan, which why her diet is now all plant-based.