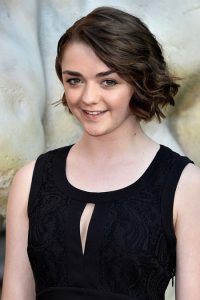 English star Maisie Williams was in her early teens when she landed the role of Arya Stark on Game of Thrones. Since her portrayal of the character in 2011, the actress has received praise for her performance. This has even earned her awards and nominations. Most notably, she was nominated for a Primetime Emmy Award for Outstanding Supporting Actress in a Drama Series in 2016. Since then she has also worked in other TV shows, such as in 3 episodes of The Secret of Crickley Hall. She went on to star on the TV movie Cyberbully and appeared in 4 episodes of Doctor Who. She will star in the upcoming movie A Storm in the Stars.
The 19-year-old actress is a prominent face with her astounding performance on HBO's hit show Game of Thrones. Standing at 5'1, Maisie is also petite with her tiny frame. Despite being young, she already works hard on the show. Seeing all her performances, it is apparent the actress is devoted to her role. With this, she prepares extensively physically and mentally. Since she has lots of fighting scenes, Maisie trains to help her achieve the right body for the role. She also trains in order to help her with looking lean and agility. She does a lot of running and moving on the show, that it's only appropriate that she works out and eats right to increase her energy levels.
Basically she eats properly to feel good and healthy in general. It's not about staying slim or looking good. She's already quite confident about herself. In an interview, she said: "I know my looks are kind of weird – compared to other actors my age – but they work for me." Her skills in dancing have actually helped her perform her fighting scenes on the show. Plus, she eats a balanced diet and knows her way around healthy foods despite being young. She focuses on eating lean proteins, whole grains, fruits and vegetables. She also likes meat pies, tea, and coffee without milk.