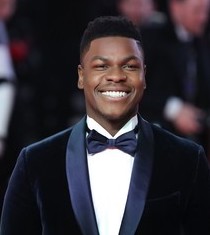 John Boyega's breakout role was as Finn in the Star Wars sequel trilogy films. Before his claim to fame, he first debuted in the 2011 film Attack the Block. That same year, he appeared in the movie Junkhearts, as well as played the part of Danny Curtis in some episodes of the web series Becoming Human. He later guest-starred in an episode of Law & Order: UK and starred in the television film The Whale.
His next film performances were in Half of a Yellow Sun and Imperial Dreams, released in 2013 and 2014, respectively. In 2015, he starred as FN-2187 / Finn in Star Wars: The Force Awakens, garnering him mainstream recognition. With his newfound prominence, he guest-starred in Saturday Night Live. At the same time, he had a voice role in the animated series Major Lazer.
His popularity grew as he reprised the role in the sequels Star Wars: The Last Jedi (2017) and Star Wars: The Rise of Skywalker (2019). He also reprised his character with a voice performance in Star Wars Forces of Destiny. In 2018, Boyega starred as Jake Pentecost in Pacific Rim: Uprising. Last year, he portrayed Leroy Logan in the television series Small Axe. He will star in the upcoming film Naked Singularity.
John Boyega upped his workout routine for his reprisal of the character Finn in the Star Wars: The Force Awakens sequel. The actor said that his role required him to be more physical so he needed to bulk up and increase his strength at the same time. To achieve this, it was reported that he worked with a trainer and trained for 21 days nonstop.
According to this trainer, Boyega began his workout with a 15-minute treadmill, followed by "four sets of 20 reps of bench presses", and with each set, he performed up to 12 push-ups. His workout plan also involved a combination of pull-ups, lat-pull downs, climbing up and down the stairs, and stiff-leg deadlifts. Even when he's not working or preparing for a role, the actor stays fit by doing mostly cardio exercises and weights.