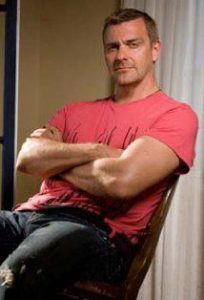 Ray Stevenson's acting career began on television during the early 1990s. He had his first starring role as Steve Dickson in the British series Band of Gold. He later starred as DI Tony Baynham in the police drama City Central. After this, he made his big screen debut in the 1998 film The Theory of Flight. He next appeared in the movie G:MT – Greenwich Mean Time. In the 2000s, he first played the role of Graham Braithwaite in the TV show At Home with the Braithwaites.
After this, he portrayed Dagonet in the film King Arthur. Stevenson later became known for starring as Titus Pullo in the historical drama Rome. In 2008, he starred as the title role in the film Punisher: War Zone. He next had performances in such movies as Cirque du Freak: The Vampire's Assistant, The Book of Eli, The Other Guys, and Kill the Irishman. He landed more film roles in the 2010s where he played Volstagg in Thor, Firefly in G.I. Joe: Retaliation, and Porthos in The Three Musketeers.
Around this period, he played recurring character Isaak Sirko in Dexter. From 2016 to 2017, the actor also became known for his role as Edward Teach (aka Blackbeard) in Black Sails. After this, he played DSI Edward Benton in the crime drama Rellik. Back in the movies, he played Marcus Eaton in the Divergent films, as well as appeared as Frank Martin Sr. in The Transporter: Refueled. In 2017, he reprised his role as Volstagg in Thor: Ragnarok.
Ray Stevenson implements a workout routine depending on the role he plays. For his role in The Book of Eli, he trained doing a complete body circuit training to achieve a new level of physicality. His roles in such films as The Punisher and Kill the Irishman also entailed some upper-body weight training along with other strength exercises.