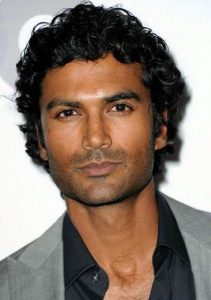 Sendhil Ramamurthy first appeared in the 2000 movie In the Beginning. Shortly after, he made his television debut in Guiding Light. He later appeared in the British series Ultimate Force, as well as guest-starred in Grey's Anatomy and Numb3rs. The actor then successfully landed the role of Mohinder Suresh in NBC's Heroes, which he starred in between 2006 and 2010. His regular stint in Heroes gained him mainstream attention.
He simultaneously had performances in such films as Blind Dating, The Slammin' Salmon, and It's a Wonderful Afterlife. After Heroes, he starred as Jai Wilcox in USA Network's Covert Affairs. He then had recurring roles as Raj Andari in CSI: Miami and Ravi in The Office. From 2013 to 2014, he starred as Gabriel Lowen in the CBS series Beauty & the Beast. In 2015, he reprised his role as Mohinder Suresh in Heroes continuation, Heroes Reborn.
He has since made guest appearances in various TV shows, including Stan Lee's Lucky Man, Odd Mom Out, Elementary, MacGyver, and New Amsterdam. In 2018, he joined the main cast of the show Reverie as Paul Hammond. More recently, he played recurring character Dr. Ramsey Rosso / Bloodwork in The Flash. Since 2020, he has a recurring role in the animated series Cleopatra in Space. He also played the role of Mohan in Netflix's Never Have I Ever.
Sendhil Ramamurthy is all about fitness. To prepare for his film and television roles, he always prepares, both mentally and physically, by undergoing physical training. As an actor, he's since incorporated a regular workout routine into his lifestyle. He's also candid about his love for fitness, often sharing on social media his fitness regimen.
Just like everybody else, he also deals with lack of motivation to exercise. "Monday post work workout. Start the week right. Even if you don't want to be at the gym. I certainly didn't want to, but feel much better now that I have," said the actor in one of his tweets.