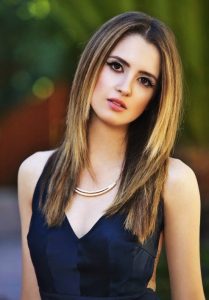 Hollywood star Laura Marano had her career beginnings on the TV series Without a Trace in the early 2000s. Afterwards, her acting career, particularly on the small screen, blossomed. Her first main role on television was as Gracie Carr on the short-lived series Back to You. Her next work was on The Sarah Silverman Program where she had a recurring role. But her break came in the 2010s, after landing the part of Ally Dawson on the Disney series Austin & Ally. She played the part from 2011 to 2016, gaining her mainstream recognition. She has also appeared in the films Superbad, A Sort of Homecoming, and more recently, in Lady Bird and The War With Grandpa.
She may be young, but the Disney actress prefers eating healthy than junk foods. In fact, she's into veggies and any meals that are nutritious. In an interview, she once said how picky she is when it comes to her foods. She said: "I am so incredibly picky! It's actually pretty ridiculous. My favorite foods consists of GoGurt, pizza and good old pasta. Honestly, I eat at home most of the time because my father is such an amazing cook. He makes the best pasta ever."
But more recently Laura is more fond of vegetables. As a matter of fact, Disney made her the ambassador for the Disney and Birds Eye Vegetables campaign in 2014. It strives to motivate kids in the US to opt for healthier foods like vegetables. She also encourages her fans to eat healthier by eating veggies more often. She even teaches them to make Bird's Eyes recipes that are super easy to prepare. They also don't much time. As quickly as 30 minutes you can have a delectable veggie meal. This one of her ways of maintaining her weight, and of course, staying healthy overall.