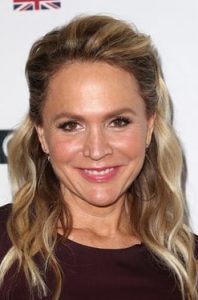 Hollywood star Barbara Alyn Woods had her career beginnings in the late 1980s. During her early years, she had one-time roles on such TV shows as Star Trek: The Next Generation and Married… with Children. In 1990, she had her first movie role in Circuitry Man. She next had supporting roles in the films The Terror Within II, Delusion, The Waterdance, Dance with Death, Flesh and Bone, Frankie Starlight, and Striptease. Back on TV, her first main role was as Eve Sinclair on the short-lived series Eden.
From 1997 to 2000, she gained recognition for starring as Diane Szalinski on the sitcom Honey, I Shrunk the Kids. In the 2000s, she became further known for her role as Deborah "Deb" Scott on One Tree Hill. She was part of the show's main cast from seasons 1-4. She returned as a guest star in 2012 for its sixth season. She simultaneously starred in the TV movies I Downloaded a Ghost and guest-starred in Desperate Housewives, The Gates, and The Goldbergs. Her latest performance was as Jenna Walters in the Netflix film Walk Ride Rodeo.
Already nearing her 60s, Woods remains slender with her toned figure. Her secret? Just a clean diet plan. Being at her age, it comes naturally for her to want healthy foods. Her diet plan primarily consists of fruits and veggies. She tries to avoid red meat as much as she can. Instead, she gets her protein from chicken and fish. With her diet being mostly plant-based, she incorporates veggies into all her meals.
For breakfast, she usually has a boiled egg with tea or oatmeal with blueberries or some other fruits. For her mid-morning snack, she loves munching on almonds or yogurt. For lunch, she typically has fish or chicken with salad. She also snacks on vegetable or fruit smoothies to keep her full and energized. As for dinner, it's usually lighter like a bowl of pasta or some soup. She occasionally indulges on a glass of wine.