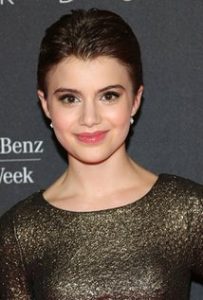 American actress Sami Gayle had her career beginnings in the late 2000s. Her first acting gig was as Hayden Lawson in the soap opera As the World Turns. Her break came when she joined the main cast of Blue Bloods as Nicole "Nicky" Reagan-Boyle. She started playing the said role in 2010. She's also guest-starred in an episode of Royal Pains. She next made her film debut in Detachment. She next appeared in the movies Stolen and The Congress. Subsequently, she became further known for her acting works in some other movies. These are Hateship, Loveship, Vampire Academy, and Noah.
The 21-year-old actress stays in shape and maintains her health by following a vegetarian diet. Her eating habits make it even tough for her to do dinner scenes when shooting for Blue Bloods. In an interview, she said: "We love to eat on Blue Bloods! Our dinner scenes are iconic moments of every episode and we commit to eating on the show. But after seven hours of filming those scenes it gets to be a lot." She added: "I can't eat red meat, so whenever there is steak or anything I refrain and have to eat a lot of potatoes or green beans. It can get a bit gassy."
The actress sticks to a vegetarian diet because of her love of animals and because it makes her feel great inside and out. She's long noticed that meat doesn't make her feel good. Since then, she's focused on having a plant-based diet. She gets her proteins from other food sources that don't come from animals. While she said that making this change wasn't that easy, she said she's happy about her body and her overall health. She takes good care of her well-being by being cautious of what she eats. So, a vegetarian diet really works well for her.