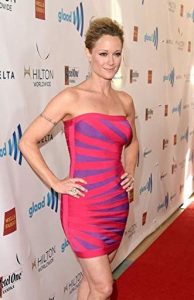 Actress Teri Polo debuted on the soap opera Loving in 1986. She next starred as Amanda Hampton on the short-lived series TV 101, airing from 1988 to 1989. In the 1990s, she first portrayed Christine Daaé on the TV movie The Phantom of the Opera. She next made her film debut in 1991's Born to Ride. The rest of the '90s saw her perform in the films Mystery Date, Passed Away, Aspen Extreme, Golden Gate, and The Arrival. From 1994 to 1995, she also starred as Michelle Schodowski Capra on Nothern Exposure. She later starred on the TV films Full Circle and A Father for Brittany, as well as on the miniseries House of Frankenstein.
She later had recurring roles on Brimstone, Felicity, and Sports Night. She gained wider recognition for co-starring as Pam Byrnes in the 2000 film Meet the Parents. She reprised her role in the sequels Meet the Fockers and Little Fockers. Also during this period, she starred as Sarah Barker on The Practice, Alex Young on I'm with Her, and Helen Santos on The West Wing. She also had performances in the films Domestic Disturbance, The Hole, and The Beacon. In the 2010s, she starred as Stef Adams Foster on The Fosters, playing the said role from 2013 to 2018. Her recent work on the film was as Ada Tildon on 2016's Outlaws and Angels.
Apart from her clean diet plan, the actress works out to make sure she stays fit, strong, and healthy overall. While nutrition is a crucial part when it comes to maintaining a healthy weight, she also acknowledges the importance of regular exercise. "I'm [also] working out with a personal trainer, and lost 12 pounds in a month and a half. At 42, I feel and look better than I have my entire life. I'm thrilled," the actress said in an interview years ago.