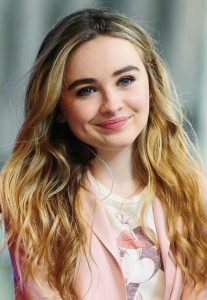 American star Sabrina Carpenter had her career beginnings in the 2010s. During her early years, she made guest appearances on numerous shows. This includes Law & Order: Special Victims Unit. She also made her film debut in Noobz. Her next work was in the 2013 movie Horns. During the same period, she started voicing the role of Princess Vivian in the animated series Sofia the First. She went on to play Young Chloe Goodwin in The Goodwin Games. She made her major breakthrough after landing the role of Maya Hart in Girl Meets World. The show ran for three seasons on Disney Channel, gaining her notable attention. She also starred in the Disney Channel Original Movie Adventures in Babysitting. In 2018, she will star in the upcoming movie The Hate U Give. She's also a singer who has released two albums: Eyes Wide Open in 2015 and Evolution in 2016.
She may just be 18, but Sabrina already understands the importance of a healthy diet and taking care of herself through a clean lifestyle. When asked when she feels the prettiest in an interview, she said: "I want to say when I'm eating ice cream, but it's truly when I'm making healthy choices and taking care of myself." She also credits her fondness for drinking water to her clear complexion. She said: "I drink so much water. I'm one of those people who will carry around a water bottle that's bigger than my body."
Despite the many temptations she encounters, which are countless of processed and junk foods, the singer-actress tries her best to make the right choices when it comes to her eating habits. She strives to focus on eating nutritious foods, such as lean proteins, whole grains, and fruits and veggies. She has cravings every now and then, which she allows herself to have. But she makes sure she has them in moderation.