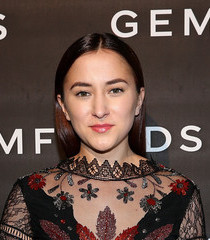 Zelda Williams started her Hollywood career at a young age, debuting in the 1994 TV film In Search of Dr. Seuss. The following year, she made her film debut in Nine Months. Later in the 2000s, she pursued acting as an adult, performing in the movies House of D, Were the World Mine, and Don't Look Up.
In the 2010s, she appeared in the films Don't Look Up, Luster, Detention, and See You on the Other Side. In 2012, she had performances in the feature films The Frankenstein Brothers and Noobz. At the same time, she starred in the short-lived series Checked Out. She later appeared as Caitlin in 2 episodes of Teen Wolf. She next had recurring voice roles in The Legend of Korra and Teenage Mutant Ninja Turtles. In 2014, she starred in the movie Never.
Williams went on to star as Drew Reeves in the short-lived series Dead of Summer. Following this, she had one-time roles in such shows as Stitchers, Criminal Minds, and Jane the Virgin. Her latest work on television was a recurring voice part in the animated series Rise of the Teenage Mutant Ninja Turtles. In 2018, she made her directorial debut in the short film Shrimp, which she also wrote and produced. She also starred in the said film.
In an interview, Zelda Williams got candid about some of her food choices. While she chooses healthy food most times, the actress also knows how to take it easy and just enjoy her meals. She likes to start her day well and healthy, so she always has breakfast. If she could, she wants a hearty meal first thing in the morning.
The ideal breakfast for her would be: "An everything bagel with avocado, tons of cilantro, fresh chopped onions and sea salt with either sriracha mayo or a bit of cream cheese on top." She also likes egg and juice in the morning. During busy days, she usually has bagel and shmear.