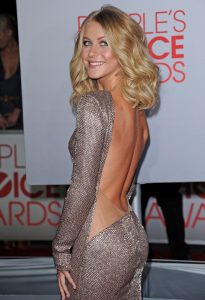 American celebrity Julianne Hough found success on the reality series Dancing with the Stars. For her work as a choreographer, she was nominated for an Emmy. Her successful stint on the show led her to begin an acting career. Her movie debut was in Burlesque starring Christina Aguilera. After this, she landed the female lead in the 2011 remake of Footloose. She then starred in the film Rock of Ages. She went on to star in the films Safe Haven and Paradise. Recently, she starred in the films Curve and Dirty Grandpa. She also recently starred on the television special Grease: Live.
Julianne is obviously sexy, lean and fit all at the same time. Being a dancer since she was little, this shouldn't be so surprising. Apparently, she maintains her fitness by lots of dancing, which she basically does everyday. Despite her perfect body, the actress-singer-dancer does not stay complacent. She knows her body won't stay this way forever. She might be just in her 20s, but she treats health and fitness as one of her major priorities.
When asked about fitness, Julianne said: "For me, it's not necessarily about my physical shape that I'm in, it's more of an internal shape. I'm just happier, I have more energy, I just feel better when I work out." As for her workout routine, she revealed: "I get bored very easily, so I like to switch up my workouts. I'll do yoga, I'll go spinning, I'll go on a hike, I'll do a personal training session where I lift weights. I like to do a lot of cardio. Sometimes I'll go take a dance class." Additionally, she tries to workout five times per week. She actually loves to begin her day off with a workout, even the lighter routines just to keep her up and going.