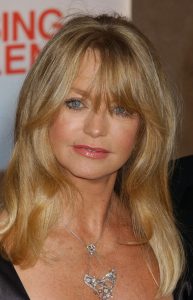 Hollywood actress Goldie Hawn had her career beginnings in the 1960s. She debuted as Sandy Kramer in the sitcom Good Morning, World, which aired on CBS from 1967-1968. She later achieved further success for starring in the sketch comedy show Rowan & Martin's Laugh-In. Meanwhile, she had her first film role in 1968's The One and Only, Genuine, Original Family Band. She next starred in the 1969 film Cactus Flower, which earned her an Academy Award and Golden Globe for Best Supporting Actress.
The following decade, her fame was established with her performances in the films There's a Girl in My Soup, Butterflies Are Free, The Sugarland Express, Shampoo, and Foul Play. In the '80s, she starred in Seems Like Old Times, Private Benjamin, and Overboard. For her performance in Private Benjamin, she received an Academy Award nomination for Best Actress. Continuing her career in the '90s, she starred in Bird on a Wire, Death Becomes Her, Housesitter, The First Wives Club, and The Out-of-Towners. In the 2000s, she only worked on two films — Town & Country and The Banger Sisters. Afterward, she took a break from acting. After more than a decade, she returned co-starring in the comedy film Snatched in 2017.
The actress is already in her '70s but she apparently still looks great. When asked what her secret to looking fabulous is, she said that there's none — other than a really healthy lifestyle. "It's not a secret. I try to drink my juices. I try to work out every day a little bit," said the veteran actress.
She added: "I don't eat a lot. I think we overeat. [And] I drink my green juice every day! I do a lot of juicing, I don't put a lot of food in my stomach and I don't mix my foods too much. So if I want to have like protein I'll just eat a bowl of lentils, I won't mix it with a bunch of stuff."