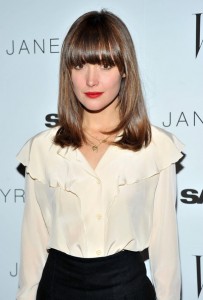 Aussie actress Rose Byrne began acting in her native country initially in the early 1990s. It then took her a couple more years to score a lead role in The Goddess of 1967 released in 2000, which became her breakthrough role there. After this, she sought for a career in Hollywood, beginning with a small role in Star Wars Episode II: Attack of the Clones (2002). Bigger roles came in 2004 with performances in Troy, Wicker Park, and Marie Antoinette. Before the 2000s ended, she starred in such films as Sunshine, 28 Weeks Later, Knowing, and Get Him to the Greek. Following this, her stardom continued with roles in Bridesmaids, X-Men: First Class, Neighbors, as well as for her role in the horror films Insidious and Insidious: Chapter 2. She's also best known for her lead role on the television series Damages (2007-2012).
Standing at 5'6, Rose's thin body frame has often led others to suspect her of having an eating disorder. The actress, however, had already clarified that there's no health problem on her part and the reason for her losing weight was when she was still shooting Damages, probably due to stress. Despite her defending herself, it seems that she's still being believed to have suffered from the said disorder in the past. It is possible that the actress is just one of those who are just naturally slim though.
Interestingly, Rose doesn't stay complacent when it comes to taking care of herself even though she's very slim and doesn't really need to work out. Besides, exercising is not all about losing weight, it's also about feeling fit and healthy. So, Rose is fond of riding bicycle, yoga, and swimming. When it comes to her diet plan, Rose apparently sets portion control into her meals, which is probably one of the reasons she stays very slender. Once in a while, of course, the actress gives in to her cravings such as sweets. She was once photographed buying ice cream for herself.