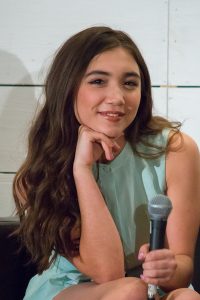 Rowan Blanchard first acted in the 2010 film The Back-up Plan. That same year, she starred as Caitlin in the television series Dance-a-Lot Robot. This also marked her TV debut. She next starred as Rebecca Wilson in the 2011 movie Spy Kids: All the Time in the World. That same year, she acted in the independent film Little in Common.
Later in 2014, Blanchard rose to fame for her starring role as Riley Matthews in the comedy series Girl Meets World, which she played until 2017. For her role, she got Young Artist nominations. She next guest-starred in Best Friends Whenever, as well as starred in the Disney Original Channel Movie Invisible Sister. After this, she appeared as a guest judge in the cooking show Beat Bobby Flay.
Following Girl Meets World, she played recurring role Jackie Geary in the period sitcom The Goldbergs between 2017–2018. She went on to play Veronica Kiley in the fantasy film A Wrinkle in Time. Subsequently, she starred in the movie A World Away. More recently, she appeared in 2 episodes of the comedy series Splitting Up Together. She then played the role of Alexandra in the television series Snowpiercer.
Rowan Blanchard tries to live a healthy life by watching what she eats and exercising. Still, she doesn't succumb to the pressures of dieting and fitness. She believes she doesn't need to worry about diets and workouts, especially for the sake of her looks.
As for her fitness, she tries to make it fun by treating it as an activity to be shared with friends. "I don't typically like working out, so I like to go roller-skating or dance with my friend," said the actress. "I sometimes go to SoulCycle, too—I like when they play Rihanna."