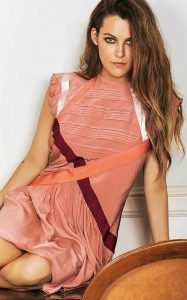 Actress Riley Keough decided to pursue an acting career in the 2010s. She did so by portraying Marie Currie in the 2010 drama film The Runaways. The movie is about the rock band of the same name in the 1970s. Afterwards, she starred in the films The Good Doctor and Jack & Diane. In 2012, she gained wider recognition for starring in Magic Mike. That same year, she starred in Kiss of the Damned and a few years later starred in Mad Max: Fury Road. More recently, she starred in the films American Honey and The Discovery. This year, she starred in the horror movie It Comes at Night and the heist comedy film Logan Lucky. In addition, she played lead star Christine Reade on the TV series The Girlfriend Experience.
How does the 28-year-old actress maintains her slender figure? It is apparent that Riley is confident about her body basing on the nudity she's done for the show The Girlfriend Experience. But what's surprising is that the actress actually hates exercising. Considering she's just in her 20s, a workout may not be as crucial for her right now because she's still able to sustain her slender physique without working too hard. She can also thank her genetics for her awesome figure that doesn't need constant physical training. At least for now that she's young.
Despite her lack of fondness for exercising, the actress does something to take care of her body and overall health. Aside from trying her best to eat healthy, she also practices yoga. She just doesn't like getting all sweaty lifting weights at the gym, but she likes meditative activities like yoga. In an interview, when asked about her favorite workout, she answered: "Yoga. It's the only thing I enjoy that's active, I absolutely hate working out." At least she's not pretending that she loves to workout.