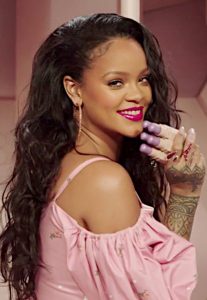 The Barbadian singer and actress, Rihanna, was discovered in her native Barbados by an American record producer in the early 2000s. This led her to go to the US to record demo tapes, which ultimately got her signed to a recording label. In 2005, she finally made her debut studio album Music of the Sun. The following, she released her second album, A Girl like Me. Both of her initial works were inspired by Caribbean music.
It was however her third album, Good Girl Gone Bad that brought her mainstream stardom. It spawned the hit single "Umbrella", which also won her her first Grammy. After releasing her subsequent albums Rated R (2009), Loud (2010), and Talk That Talk (2011), she found greater success with her 2012 album Unapologetic. The album also generated several chart-topping songs, including "Rude Boy", "Only Girl (In the World)", "What's My Name?", "S&M", "We Found Love", and "Diamonds".
She later pursued her own creative musical pursuits, which was evident in her 2016 album Anti. Not only is Rihanna a singer and a performer on stage, but she's also a full-fledged actress. Her first acting role in the movies was in the sci-fi action film Battleship. She next voiced the part of Gratuity "Tip" Tucci in the animated movie Home. In 2017, she starred in Luc Besson's film Valerian and the City of a Thousand Planets. Rihanna also starred alongside Sandra Bullock and Cate Blanchett in the film Nine Ball.
Being a performer, Rihanna naturally gets regular exercise from all those dancing and performing she does. But by the time she reached her 30s, the singer became more devoted to her workout routine. According to a report, Rihanna sticks to a strict fitness regimen, which includes hitting the gym five days a week. Of all the exercises she's done, she loves cardio workouts like cycling and jumping jacks the most. In addition, she ensures that her core muscles are also taken care of by doing lots of repetitions.