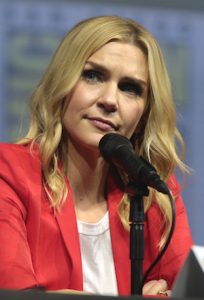 Hollywood star Rhea Seehorn had her career beginnings in 1997, debuting in an episode of Homicide: Life on the Street. She next made her film debut in the independent feature A Case Against Karen. She later acted in a couple of short movies. In the 2000s, she appeared in the films Eat Me! and Riders. On TV, her first starring role was as Cheri Baldzikowski in the ABC series I'm with Her.
After this, she had a recurring character in the Fox series Head Cases, as well as starred in the TV movie Romy and Michele: In the Beginning. In 2006, she had a role in the film The Shaggy Dog, after which she played Stephanie Vogler in several episodes of NBC's The Singles Table. Seehorn went on to have recurring parts in such shows as The Starter Wife, American Dad!, and Trust Me. She also guest-starred in Dollhouse, Burn Notice, and The Closer.
From 2011 to 2013, she starred as Roxanne Harris in the sitcom Whitney, as well as played Ellen Swatello in Franklin & Bash between 2011 and 2014. Seehorn came to prominence after landing the role of Kim Wexler in Better Call Saul, a role she has been playing since 2015. For her work here, she was nominated for the Critics' Choice Television Award for Best Supporting Actress in a Drama Series. She also played Michelle York in 5 episodes of HBO's Veep. To add, she starred in the movies Seven Stages to Achieve Eternal Bliss and Inside Man: Most Wanted.
Rhea Seehorn is not into strict diets. While she's tried doing crash diets when she was younger, she now knows better. Instead of taking things to the extreme, she prefers to do them in moderation. "I don't do any kind of crash-course dieting or exercise; I made a decision a long time ago," said the actress.
She just tries to be mindful of her food choices. "I've been doing that for years: low sodium, low sugar, as few ingredients as possible. I avoid aspartame at all costs and when it's possible I eat non-GMO foods, meats without antibiotics and from animals raised humanely," said the actress.