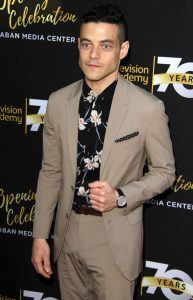 Hollywood actor Rami Malek debuted in an episode of Gilmore Girls in 2004. His first starring role was as Kenny Al-Bahir in the television series The War at Home. It aired on Fox from 2005-2007. He also pursued a film career, debuting in the 2006 film Night at the Museum where he played the role of Pharaoh Ahkmenrah. He reprised his role in the 2009 sequel Night at the Museum: Battle of the Smithsonian. In the 2010s, he played Marcos Al-Zacar in 3 episodes of 24, as well as starred as Merriell "Snafu" Shelton in the miniseries The Pacific.
He next made a notable one-episode appearance in Alcatraz. He also had supporting roles in the films Larry Crowne, Battleship, and The Twilight Saga: Breaking Dawn – Part 2. He next landed roles in The Master, Ain't Them Bodies Saints, Short Term 12, Oldboy, Need for Speed, Night at the Museum: Secret of the Tomb, and Da Sweet Blood of Jesus. In 2015, he started playing the lead Elliot Alderson in the USA Network series Mr. Robot. His performance was acclaimed, winning a Primetime Emmy for Best Actor. At the same time, he voiced Flip McVicker in BoJack Horseman. Recently, he rose to greater fame for his portrayal of Freddie Mercury in the 2018 film Bohemian Rhapsody.
Thanks to his remarkable portrayal of Queen frontman Freddie Mercury, Rami Malek is now a globally well-known actor. Of course, part of his preparation was to improve his physique to match that of the late musician's seemingly never-ending energy. "I didn't really want to bulk up, per se — I just wanted to get my body into a place where I could do a 22-minute concert over and over for five days and not be out of breath," said the actor.
"I was on a very specific diet. I bulked up for that first week and immediately had to drop muscle and weight and go into shooting young Freddie, who is very scrawny. I just had to be really cognizant of when to work out and when to crash diet. I don't recommend it for anyone," the actor continued.