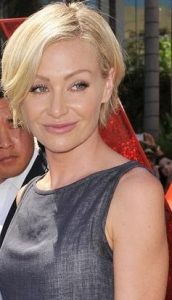 Australian-American actress Portia de Rossi had her career beginnings in her native Australia. In 1994, she made her acting debut in the movie Sirens. The following year, she landed her first TV role in Too Something. She next joined the main cast of the US sitcom Nick Freno: Licensed Teacher. After this ended, she starred in a few TV movies. She later was cast for the role of Nelle Porter in the series Ally McBeal, which was her first notable role on the small screen.
In 2003, she portrayed Carolyn Bessette-Kennedy in the made-for-television-movie America's Prince: The John F. Kennedy Jr. Story. From 2003 to 2006, she became further known as Lindsay Bluth Fünke in the acclaimed series Arrested Development. Afterward, she played recurring role Olivia Lord in Nip/Tuck. She also starred in the short-lived series Better Off Ted. More recently, she starred as Elizabeth North in the hit series Scandal.
The 45-year-old actress stays in shape by following a vegan diet, which means she only consumes a plant-based diet. Portia confessed that she used to think of meat as part of her everyday diet, but it's not the case anymore. Ever since she lived on a farm with her wife Ellen DeGeneres, she learned to change her diet for good as she no longer wanted to eat meat.
In an interview, she talked about how she changed her diet. She said: "Steak and burgers weren't an everyday meal, but I definitely accepted meat as a necessary part of life. That all changed five years ago, when Ellen [DeGeneres] and I moved to a farm in California."
After getting to know all the animals on the farm, the actress became determined to focus on a plant-based diet. She said: "I stopped eating all animals and animal products. I always thought going vegan would be difficult, but I genuinely don't crave meat or cheese. And I feel happier, like I'm contributing to making the world a less violent place."