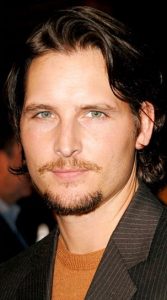 It was in 1995 that actor Peter Facinelli started his professional career. He made his cinematic debut in the film Angela. At the same time, he had his first television role in Law & Order. The rest of the '90s saw him perform in such movies as Foxfire, Dancer, Texas Pop. 81, Can't Hardly Wait, Welcome to Hollywood, and The Big Kahuna. The following decade, he became more active on TV. He starred as Donovan "Van" Ray in the short-lived series Fastlane. He next played recurring character Jimmy in HBO's Six Feet Under. Afterward, he played Gregory Malina in the legal thriller series Damages. During this period, he was also prolific on the big screen.
He had supporting roles in such films as Supernova, Riding in Cars with Boys, and Hollow Man 2. He later gained recognition for starring as Dr. Fitch "Coop" Cooper in the comedy-drama series Nurse Jackie, a role he played from 2009-2015. At the same time, he starred as Dr. Carlisle Cullen in Twilight, adding to his popularity. He reprised his role in all of Twilight films. In 2012, he ventured into producing with the movie Loosies, where he also starred. He later starred in the movies The Damned, Freezer, Walter, and The Wilde Wedding. Back on TV, he's also played Rupert Campion in Glee, Peter Decker in American Odyssey, and Maxwell Lord in Supergirl. As of 2017, he stars as Michael Plank in the CBS series S.W.A.T.
Apart from his workout routine, the Twilight actor maintains his great physique by following a healthy diet plan — at least he tries to most of the time. The actor admits that while he certainly wants to practice a clean diet, that's not always the case. According to him, it's "being either totally healthy—eating, mostly salads — or the opposite, chowing down on burgers, pizza, and fries." Well, can you really blame him?