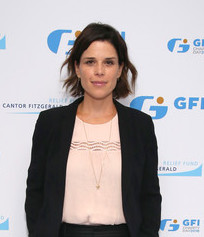 Neve Campbell debuted in the early 1990s. She initially appeared in the television shows The Kids in the Hall and Catwalk. Her first movie role was in 1993's The Dark. She next appeared in the films Paint Cans and The Craft. Campbell rose to fame courtesy of her role as Sidney Prescott in the 1996 movie Scream. She reprised her role in the sequel Scream 2 released the following year. She next starred in the films Wild Things and Three to Tango.
From 1994 to 2000, she also became known for starring as Julia Salinger in the TV drama Party of Five. In the 2000s, she had performances in the films Drowning Mona, Panic, Investigating Sex, Lost Junction, Blind Horizon, and Churchill: The Hollywood Years, among others. She also played the role of Sidney Prescott again in Scream 3. In 2009, she starred as Olivia Maidstone in the short-lived series The Philanthropist, as well as acted in the miniseries Sea Wolf.
In 2011, she starred in Scream 4. She later starred as Sarah Sawyer in the 2018 action film Skyscraper. Her most recent work on the big screen were in the films Castle in the Ground and Clouds. She had notable performances in the TV shows Titanic: Blood and Steel and Welcome to Sweden. Campbell also played the role of LeAnn Harvey in House of Cards.
Neve Campbell starts her day early and healthy as part of her daily lifestyle. For starters, she doesn't drink coffee in the morning.
"The first thing I do [in the morning] is have hot water with lemon and pro-biotics. I've never drunk coffee; I don't like the smell. I'm a tea drinker. If I need it I will have one cup of green tea. I'm into herbal tea," said the actress.
She's also revealed that she follows a vegetarian diet. "I never thought I would [go vegetarian]. It was just something I decided to do. I don't know how long it's going to last, but I just feel lighter and easier," she explained.