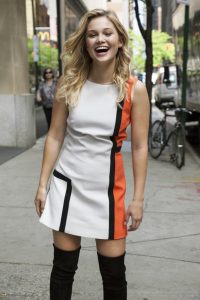 Hollywood star Olivia Holt had her career beginnings in the late 2000s with her debut in the movie Black & Blue. She then appeared on Disney XD's My Life. She became widely known for her role as Kim on Disney XD's Kickin' It. Simultaneously, she starred on the made-for-television movie Girl vs. Monster. She also played starring role Lindy Watson on I Didn't Do It. She had also lent her voice for the animation Tinker Bell and the Legend of the NeverBeast. This year, she worked on four films: Class Rank, Same Kind of Different as Me, Status Update, and Gnome Alone.
Even at her young age, Olivia doesn't ignore her body's needs, such as the need to exercise. She actually works out as regularly as possible, not only to maintain her slim physique, but to be strong and healthy. Her role on the show Kickin' It, being about martial arts, required her to be physically fit for her martial arts scenes. When asked about her fitness routine, she revealed:
"I do go to the gym a lot. I have a bunch of different workouts that I do every time I go, but I like to focus on one thing each time I go; whether that's core or whether that's legs or arms, I have different workouts that I do and some that I don't—it's just something that I've kind of grown to love. When I'm done working, I'll go to the gym and I'll just do a quick workout or if I know I have time at night or in the morning, or if I have a day off I'll go during the day. Each time I go, I feel like my energy just becomes so much lighter and better." In addition, the actress does parkour training as part of her overall workout regimen.