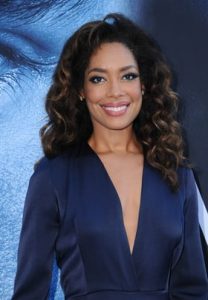 Hollywood star Gina Torres first debuted in the TV series Unnatural Pursuits. She next starred in the TV film M.A.N.T.I.S. before landing a recurring character in One Life to Live. Later, Torres played Cleopatra in an episode of Xena: Warrior Princess. She later played Nebula in Hercules: The Legendary Journeys. On the big screen, she had her first movie role in 1996's Bed of Roses.
That same year, she appeared in the film The Substance of Fire. In the 2000s, she starred as Helen 'Hel' Carter in the short-lived series Cleopatra 2525. She later played a recurring part in Alias as Anna Espinosa and starred as Zoe Washburne in Firefly. Next, she appeared as Jasmine in 5 episodes of Angel, as well as Julia Milliken in 24. Back in the movies, she played Cas in The Matrix Reloaded and The Matrix Revolutions.
She then reprised her role as Zoe Washburne in the movie Serenity, the big-screen continuation of the TV series Firefly. Torres went on to star in the films Jam, Five Fingers, I Think I Love My Wife and South of Pico. Also, she starred as Cheryl Carrera in the short-lived show Standoff. In the 2010s, she became best known for her role as Jessica Pearson in the USA Network series Suits. She will reprise her role in the spin-off Pearson.
The Suits star stays in great shape but she doesn't need to deprive herself of food in order to stay fit. The Gina Torres diet plan is that there's none. Being a big foodie, she makes it all up by working out more diligently.
"A friend and I were just cackling over our sea bass and butter, bread, and rosé. We were like, "We work out so we can eat this!" It's about balance," the actress said. "But food? I love food. I like all the no-nos. I love buttery, cinnamony, caramelly, and sometimes lemony things. And I love fried chicken and bacon!"