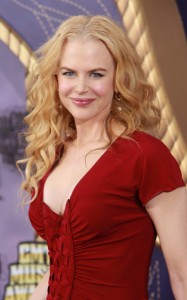 Australian actress Nicole Kidman started her career in her native Australia, first achieving notice for her starring role in the thriller Dead Calm. With this, she was cast in the Hollywood films Days of Thunder and Far and Away, teaming up with Tom Cruise in both films. International success followed when she starred as the female lead in Batman Forever (1995). Being a top-caliber actress, her performance in Moulin Rouge! (2001) earned her her first Oscar nomination for Best Actress while her performance in The Hours the following year won her her first Oscar for Best Actress. In the next few years, Nicole continued her prolific acting career with starring roles in Cold Mountain, The Interpreter, and Rabbit Hole. Her most recent films are Grace of Monaco and Strangerland.
48-year-old actress Nicole Kidman is unbelievably in her late 40s. Being a mother of four, two adopted kids with former husband Tom Cruise and two biological children with present husband Keith Urban, Nicole surely knows how to take care of herself really well despite being busy with her work and family. Now that she's aging, it becomes more critical for the actress to be cautious of her lifestyle to maintain her radiance and of course, stay fit and healthy. In order to achieve all those things, Nicole regularly works out, which results to her toned body.
Her diet plan, on the other hand, consists of her eating nutritious foods 80% of the time, while she allows herself to indulge in her favorite not-so healthy foods 20% of the time. This way, she can diet without feeling depressed. Nicole is also fond of organic foods, which helps her eliminate toxins out of her body. This results to her slender figure and great skin. Of course, Nicole tries to stay away from foods packed with preservatives. In addition, the award-winning actress prefers eating five times a day (as long as she keeps every meal light), rather than the customary three meals per day.