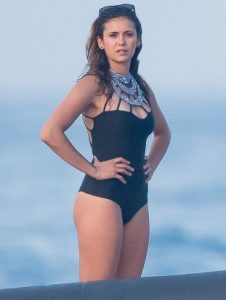 Nina Dobrev is a Bulgarian-born Canadian actress who started her career on Canadian television, most notably on Degrassi: The Next Generation, which gained her mainstream recognition in Canada. Simultaneously, she played a recurring character on The Border and appeared as a guest star on other TV shows, as well as acted in some made-for-television films. Her major breakthrough on television, however, was on The Vampire Diaries, which became a huge hit among international fans and earned her widespread recognition. She had also appeared in the films The Perks of Being a Wallflower and The Final Girls. She will star in the upcoming movie xXx: The Return of Xander Cage with Vin Diesel.
The pretty-faced actress is a television favorite. Although her status on The Vampire Diaries is currently hanging, she's still well-loved among all her fans. Also, the actress is not only known for her beautiful face, but also for her slender figure, which was partly caused by her dancing and her being a professional gymnast. Aside from this, Nina is also an avid fan of workouts. Basically, the actress' trainer Steve Moyer said that Nina's training is all about core work and all-around fitness such as strength, coordination, balance, flexibility, and endurance, which basically lasts for one hour.
When Nina started to work out regularly, she was already in great shape, so all her trainer did was guide her and gave her tips on both exercising and dieting, something that she could do on her own. Also, Nina was already into healthy physical routine, including surfing, spinning, and hot yoga, which has since developed her body into the amazing physique that she has right now. Her trainer also boasted about how easy it is to work with the young star as she's focused and motivated which results to her getting a hotter body in a shorter period of time.